Fixie-FIXED Wheel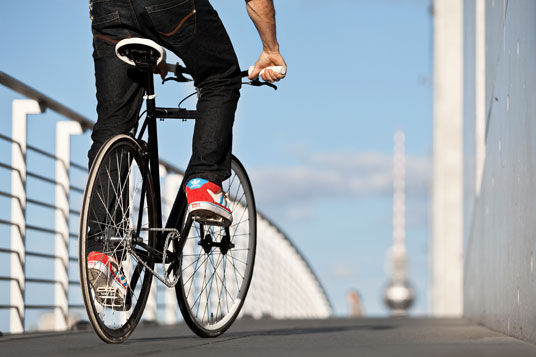 A fixed gear bike or "Fixie" as it is more commonly known, is a bike without a freewheel; this makes it unable to coast along and freewheel down hills without pedalling forwards. The rear sprocket is screwed directly on to the hub and when the wheel is rotated the chain moves turning the cranks forward. This is the same method of transmission that is used on track bikes in a velodrome, but more and more Fixie bikes are appearing on the roads, especially in the cities where they are very popular with commuters and cycle couriers.
Traditionally fixed wheel bikes were commonly used by club cyclists during the winter months, providing a low maintenance and therefore low cost option to a road bike with multiple transmissions. Fixed wheel bikes have evolved to meet the needs of their users with several design features, specific for use on the busy city streets. Bike frame geometries are much more relaxed than, say a track bike that is built for speed not comfort and handling. Low gearing is used to allow the rider to accelerate and negotiate in traffic, and often the handlebars are very narrow allowing the rider to navigate through the traffic without causing damage to himself, or the surrounding vehicles.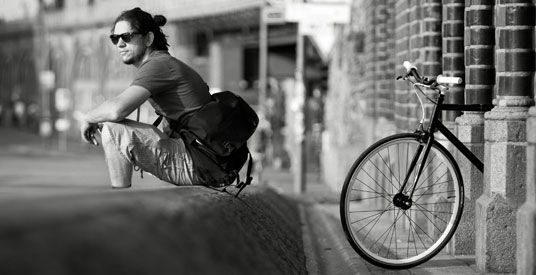 Some Fixie riders think that brakes are not strictly necessary because the fixed gear acts as a brake, when the rider pushes back on the pedals however most riders use at least a front brake because it is illegal on UK roads otherwise. Whilst these bikes offer many advantages against more traditional bikes with gears, they do have some down sides. More attention must be paid when cornering because the cranks won't stop rotating and descending is not much fun because your legs will rev at an un-natural rate, which some may find uncomfortable.
Fixed wheel bikes are also used in other forms of cycle sport such as bike polo, cycle ball and artistic cycling activities.