TSBIKES TEAM PAGE 2012/3
TSBIKES TEAM NEWS PAGE


Membership cost is still £10 which entitles you to a discount in the shop and also free bronze British Cycling membership for riders who have never joined British Cycling before.
Team TSBIKES.co.uk is not a club looking for out and out racers only. We formed the team with a core of more mature cyclists who did not want to be part of a traditional club where everything revolves around trying to be club champion. We are more of a group of like minded individuals who just enjoy cycling for what it is, some of us race, some do sportives some just like riding the local chaingang. So if this sounds like you why not join us.
In 2012 we will be able to offer members some very special deals on kit-each member will be sent an email with these special offers.
Also a reminder that membership runs from Jan 1st-Dec 31st.
Congratulations go to Kev Steel on his first win since he made a come back. Winning a bunch sprint and to Tim Berry for winning at Thorsby park in a thrilling up hill sprint. Well Done.
Congratulations to Rob Ramsdale (premium store manager) for his first ever win, which came in the Velo99 end of season road race, Rob attacked with two laps of a 5mile course to go and solo'd to his first ever victory. Well done to the club bunch engine.
An accident put paid to Kev's comeback season, Kev thinking he was 30 years yonger was climbing over a fence(don't ask) when he slipped and landed heavily on his ankle causing it to shatter, a number of bolts and plates later, Kev has curtailed the comeback for the time being.
Rob continues to ride the Velo99 series, but after a winter with very little riding, is finding the scratch group a little tough, especially with the current weather conditions making things harder.
Race one of the series saw him struggling with the pace and finishing well down the field, Race two Rob faired a little better to come in a respectable 17th after probable the hardest conditions he has ever raced in, Race four saw Rob hitting the deck after the conditions pushed all the riders to the limit and a touch of wheels saw Rob falling heavily onto his side, even so Rob continued, but climbed off after a prolonged chase.

News
FINAL CLEARANCE PRICES
The time has come for us to make some room in showroom for the 2014 bikes.
Published Monday 21 October 2013


Shop with confidence.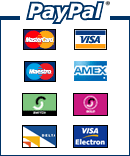 PayPal available for orders up to £75.00

TEAM TSBIKES.CO.UK NEWS PAGE

Great Offers
Our Price £1500.00
Offer £1250.00
Now 16% / £250.00 below RRP!