LONG EATON CYCLE CENTRE
If the item you are looking for is not listed on our website then please e-mail
info@tsbikes.co.uk
and we will reply with our current best price and availability.

News
FINAL CLEARANCE PRICES
The time has come for us to make some room in showroom for the 2014 bikes.
Published Monday 21 October 2013


Shop with confidence.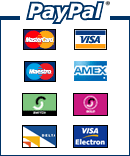 PayPal available for orders up to £75.00

TEAM TSBIKES.CO.UK NEWS PAGE

Great Offers
Our Price £1831.70
Offer £1484.00
Now 18% / £347.70 below RRP!